Teatr POLSKI in Poznań / (Polish theater)
27 Grudnia Street 8/10, Poznań
phone +48 61 852 56 28

www.teatr-polski.pl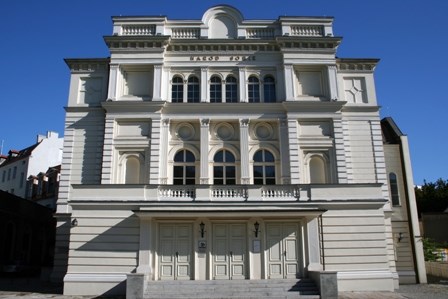 Teatr Polski in Poznań is the longest-running, continuously operating theater in Poland. The historic building located in the heart of the city is one of the main tourist attractions of Poznań.

Since 2015, the theater has been managed by a new management in the person of Marcin Kowalski and Maciej Nowak, who initiated many interesting activities that refer to the rich history of the Teatr Polski in Poznań. When reactivating the memory of this place, attention was also paid to the problems of the modern world. Thanks to the new management at the Polski Theater in Poznań, outstanding theater artists can host and produce their performances.

Only in the first half of 2016, our theater hosted as many as 241 events, including 167 theater performances and 58 theater-related events. A lot of press, radio, television and internet materials have appeared about the performances and the theater itself. We organize large nationwide events: Metaphors of Reality - a competition of contemporary dramaturgy; Theater Meetings Close Strangers.

We also carry out projects such as: The Historical Commission of the Polish Theater in Poznań, Naród się.pl, Divine narratives. Conversations with writers on faith, religion and gods, Polish Theater Antrakt Orchestra in Poznań, Little Premiere, THEATRANKS, Children's Atelier, Performances with translation for deaf people, Theater walks, STAR IN THEATER, i.e. a Christmas song, to the Christmas market, Poznań!,
We want to be open to the needs of our viewers - we invite you to the Teatr Polski in Poznań!